For the past few days, I was on the roll with regular posts until a crappy Math test decided to ruin it . I want high school to end, FAST.
Anyhow, I came up with 5 random things I like (in no particular order)
and listed them behind my math textbook because, yes you guessed it right, I was NOT studying.


High-waisted skirts.
Even though I feel awkward wearing one myself, they are without a doubt, the most chic piece of garment a girl can own. There's one for every occasion.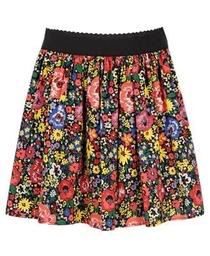 Picnic in the valleys with sun overhead and pancakes with syrup.



Catch a game of polo (see: white gloves) with elite & boring friends.




Lounging by the pool in Four Seasons.




Important meeting with the bosses.




A walk in the wilderness.




Rocker chick goes to a concert.

Suburbs.
Neat houses, green lawns, sprinklers and picket fences.
I sometimes dream about them, but everything is blinding white so I can't see a thing.



They look so peaceful on the surface but nobody knows what lurks behind this prim and proper facade. It maybe frustrated housewives, cheating husband or depressed children.


Mountains.
I like the way they are so alien, seperate from everything else, yet so beautiful. I can certainly live on one for the rest of my life and not complain. I would take pictures and listen to psychedelic rock all day.


Petals on the wind.
I got it from a garage sale where it lied next to a picture book about snow leopards. I love the gothic theme and the twisted plot. Its better than the first book, Flowers in the attic.


Here
is a great review I found online.
Its weird how Chris is in love with his own sister Cathy (see : beautiful, selfish ballet dancer) who in turn loves the mute old man who adopted the two of them and their violently ill younger sister, Carrie. Their return in the outer world is very interesting, after being prisoned in an attic for ages.

Pinback.