I hate my self for being a lazy ass idiot who feeds on junk all day whilst reading cute romance novels instead of studying for semesters. But then I make up for it by promising (no one in particular) to study twice as hard the next day and the cycle continues.

Lately, I have been listening to Nirvana a lot. It brings back so many memories. I wonder what Kurt Cobain would have been like, were he alive today. I like to imagine him happy and content with his family, just like Slash (yes, I do stalk him on twitter, facebook you name it). I ALWAYS think, he should have just hanged in there. But of course, I don't know what he was going through. Pressure from the media, drug addiction, responsibilty for his family and what not. It doesn't make sense. I saved a copy of his suicide note to my desktop which was addressed to his imaginary friend.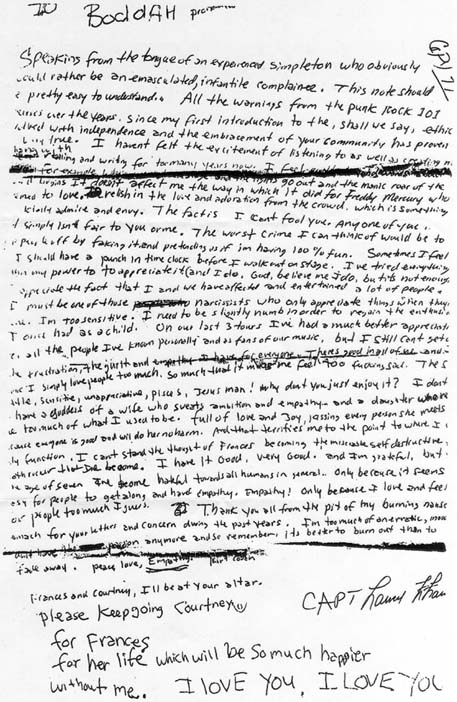 You can read what it says
here
.



cutest picture on the cover of Sassy.
Hats off to him for being the definition of 'unconventional', yet turning out to be an extraordinary musician.

A vocal opponent of sexism, racism and homophobia, he was publicly proud that Nirvana had played at a gay rights
benefit supporting No-on-Nine in Oregon in 1992, in opposition to Ballot Measure Nine, a ballot measure, that if passed, would have prohibited schools in the state from acknowledging or positively accepting LGBT rights and welfare.



This is, undoubtedly, their best song.



I have a similar Nirvana shirt that I love to bits.

Apart from changing the music scene of the 90's, Nirvana had a considerable impact on the fashion front as well. The Grunge look was introduced. It gave birth to many different looks be it the edgy rocker chick or the laidback slacker.



The 90's was certainly a revolutionary phase, with baffling changes that caused people to sit up and notice. Nirvana just added a handful of spice (or rather glitter) to it.
Off to sleep now.